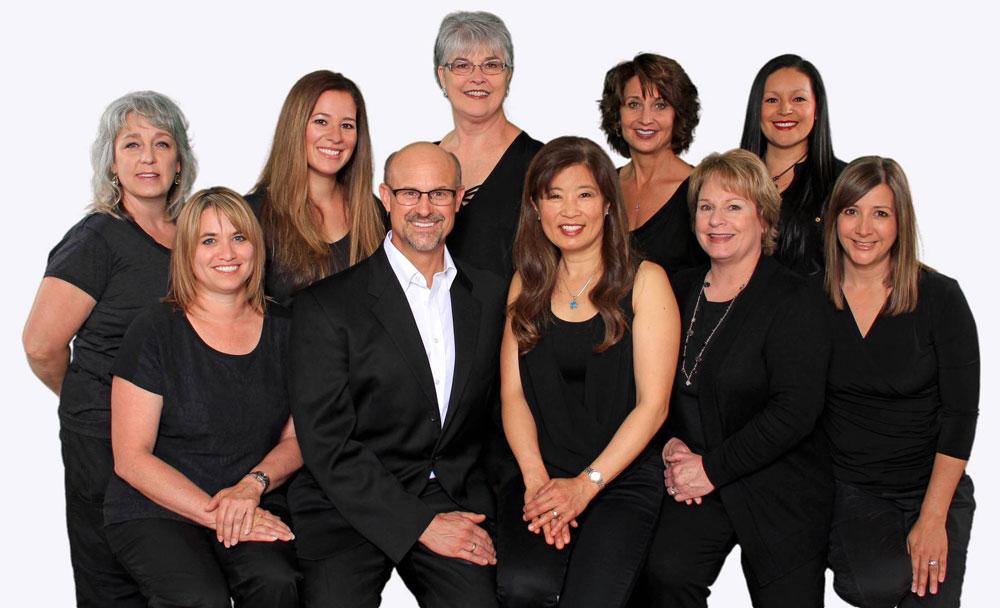 We recognize that all our patients are unique and deserve to receive dental care that reflects their individual needs. Our experienced and talented dental team is committed to working with you and your family to create a comfortable, stress-free, and rewarding dental experience every time you visit our practice.
We are pleased to welcome you and your family, and we look forward to working with you.
Chris
Dental Assistant
I started working in the practice in 1979. My focus involves ensuring patients are comfortable and understand their choice of care. I love the relationships that have grown with our family of patients and creating new friendships with new clients.
The loves of my life are my three grown children and three grandchildren. I enjoy family time, cooking for all of them, and creating treasured memories.
Barb
Administrative Assistant
I help our clients understand and plan their treatment. I also work closely with clients to review financial options and help them find terms that work with their budget. I started working at the practice in 1977 as a chairside assistant before transferring to the front office. In my years here I've met some amazing families and truly enjoyed getting to know each person.
I have been married since 1978 and have two married sons and a granddaughter.
Jennifer
Dental Hygienist
As a hygienist, I build relationships with clients. I enjoy learning about their needs and goals so I can help them achieve great oral health and wonderful smiles. I have worked in dentistry since 2000, starting as a dental assistant. I joined our team in 2011 and love being part of a practice where I develop long-lasting relationships with clients.
When I'm not at work, I enjoy gardening, fishing, painting, and spending time with my husband and two kids.
Deborah
Dental Assistant
I became a registered dental assistant after graduating from Yakima Valley Skills Center in 1989. I work chairside and create custom occlusal splints and more in our lab. I enjoy seeing the positive changes dentistry can make in people's lives, especially when we help clients overcome dental apprehension and achieve the smile they've always wanted. I really appreciate the relationships I've made in this office. Since joining the Miller team, I've felt that I became a part of a family. We help each other out and do whatever is needed to ensure our clients' best experience.
I've been married since 1989 and have two daughters, four grandchildren, two Australian shepherds, and a cat. In my free time, I like to camp, hike, and have fun with my family.
Heather
Dental Hygienist
I joined the Drs. Miller and WangMiller team in 2013. I obtained my associate's degree in dental hygiene at Yakima Valley Community College in 1995. In addition to working in private practice, I have been a clinical instructor at the YVCC dental hygiene program since 2010. I am excited to be working with a practice that puts patients' needs first. We give the clients all their options and educate them in a way that the client can make the best choice of treatment that meets his or her needs. As a dental hygienist, I feel that patients want someone that is thorough, gentle, friendly, and educated in the dental field. I strive to make everyone feel well cared for at each visit.
I live in Selah with my three amazing children. I enjoy gardening, traveling, spending time with family and friends, and attending all the activities my kids are involved with.
Janean
Administrative Assistant
In 2001, I started my career in dentistry with Dr. Miller and Dr. WangMiller. I enjoy working with our patients to help them achieve their desired outcomes and supporting them with the care they choose. I have a unique background because I began my dental training as a chairside assistant for many years before moving to administrative duties. This helps me have a broad perspective of the procedures and treatment options. I like to help people understand insurance issues and help them get the most insurance benefit for their dental needs. It is always my goal to provide the best care.
When I'm not in the office, I enjoy cycling, golfing, quilting, shooting, snowshoeing, and spending time with my rescue dog Fancy.
Reneé
Dental Hygienist
I joined the Miller team in 1996, just two years after beginning my dental hygiene career. I am committed to helping people stay healthy and smiling for the rest of their lives.
I am married with two daughters. During my free time, I enjoy outdoor activities with my family.
Rocio
Dental Assistant
I love what I do and I'm certain that being a dental assistant on an amazing dental team is what I was born to do! I have been in dentistry since 1998. My favorite part of my job is having the opportunity to help so many people get the smile they've always wanted. I have made many friends in my career and I care deeply for them and their families. At this office, I am surrounded by people I respect and admire. Dr. Miller is very respectful and kind, and I feel that our team shares similar values.
I have three sons, a daughter, and two dogs, and we all enjoy camping in the summertime. My other hobbies include reading, going to the gym, and playing tennis. I am fluent in both Spanish and English.